Authored by: Aishwarya Arora
The decision to ban single-use plastics in India on the birth anniversary of Mahatma Gandhi (October 2) was retracted that very day by the Government of India. This analysis explores the ban, would it have been initiated. 
On the occasion of India's 73rd Independence Day, Prime Minister Narendra Modi, called for a nation-wide movement against Single Use Plastics. He urged that people take this as the "first big step" on the 150th birth anniversary of Mahatma Gandhi on October 2. This decision was taken in light of the plastic waste management crisis in the country, pointing towards an imminent ban, effective immediately in the category of six products — 'plastic bags, cups, plates, small bottles, straws and certain types of sachets,' under the larger agenda of phasing out Single Use Plastics by 2022.
The campaign gained further momentum when Modi reiterated his commitment to de-plasticisation of the country with mention of the matter in his speech at the 14th Conference of Parties (COP 14) of the UN Convention to Combat Desertification where he reaffirmed;
My government has announced that India will put an end to single-use plastic in coming years. We are committed to development of environment-friendly substitutes and also an efficient plastic collection and disposal method. I believe that the time has come for even the world to say goodbye to single-use plastic. [1]
The United Nations Environment Programme defines Single Use Plastics or disposable plastics, as commonly used for plastic packaging and including items intended to be used only once before they are thrown away or recycled. These include, among other items, grocery bags, food packaging, bottles, straws, containers, cups and cutlery [2].
The Centre Pollution Control Board (CPCB) Report 2017-18 states that India consumes 9.4 million tonnes of plastic, out of which only 5.6 million tonnes is recycled. On a day to day basis, India consumes 25,940 tonnes of plastic.  About 94% of this consists of thermoplastics, such as PET (polyethylene terephthalate) and PVC (polyvinyl chloride), which are  recyclable. The remaining belongs to thermoset and other categories of plastics, such as sheet moulding compound (SMC), fibre reinforced plastic (FRP) and multi-layer thermocol, which are non-recyclable.
The Report on Implementation of Plastic Waste Management Rules, published in 2016, states that plastic waste generated across the country, except the six states where data was not available, is almost 1.6 million tonnes a year, with an estimated half being contributed from Maharashtra and Gujarat alone [3]. The data collected by Plastindia Foundation, a body of major associations, organisations and institutions connected with plastics, states that the volume of plastic waste generated in India is projected to be  considerably higher. Further, according to the estimates of the Foundation in 2017-18, India consumed 16.5 million tonnes of plastic.
India's current Plastic Waste generation is 38% higher than the global average of 20%, as cited in the CPCB Reports and there is a projected increase in the per capita consumption of plastic waste to go up from 11kgs in 2014-15 to 20kgs by 2022, according to FICCI. In light of these facts, the menace of plastic waste demands urgent redressal of the impending consumption explosion [4]. This is especially true with regards to Single Use Plastic, which has been a major area of concern for the government, despite the fact that 25 states already have legislation in place to ban plastic in some form or the other.
The expression of the government's intention was met with a huge outcry from the Plastics Industry at large, who questioned if a cost-benefit analysis was holistically undertaken before proposing such a legislation. While the nodal Ministry of Environment, Forests and Climate Change  has provided support to the resolve, amassing massive support from other governmental agencies and environmentalists, unfortunately, this announcement has caught the country, currently facing an economic slowdown, off guard with speculations and concerns over the future of waste management and consumption.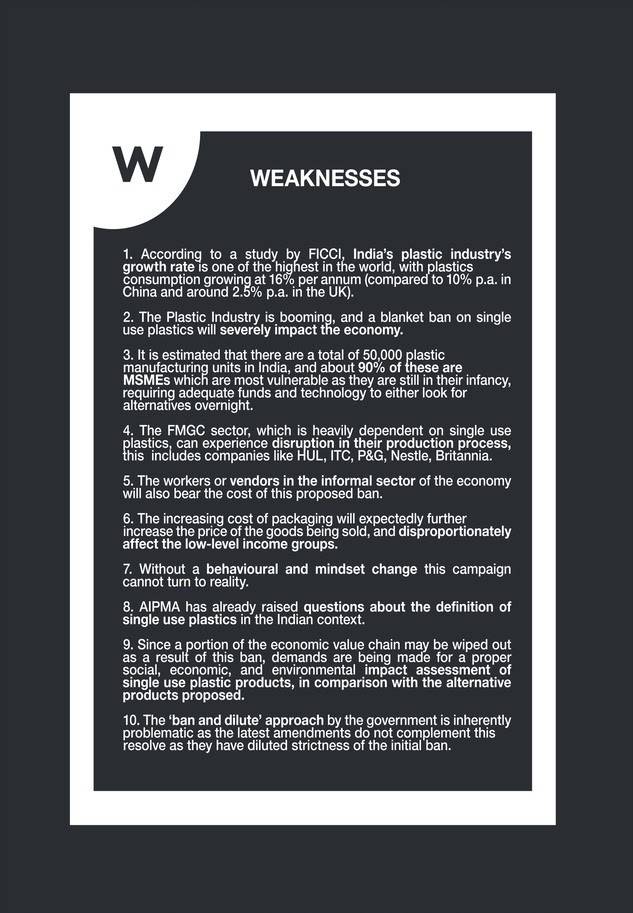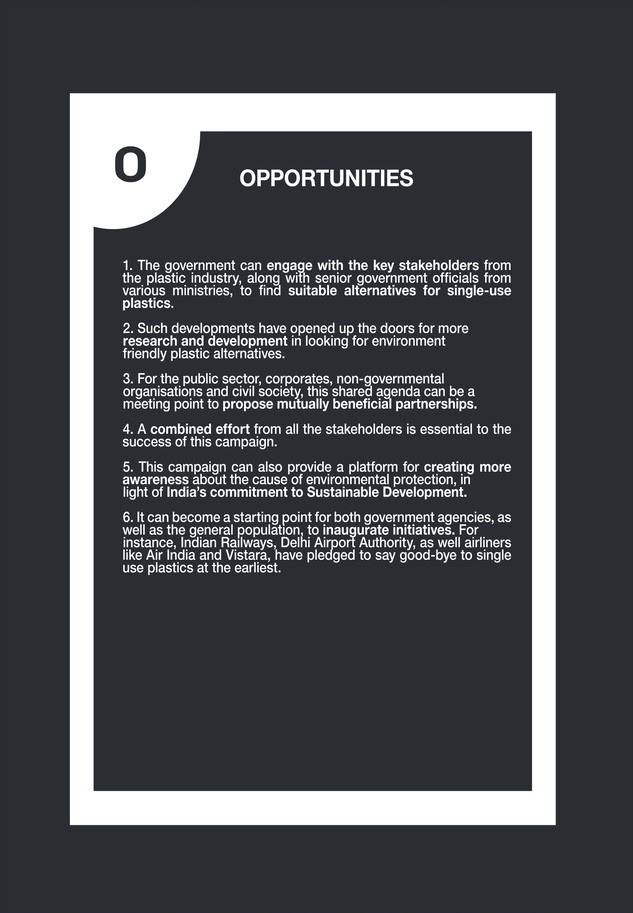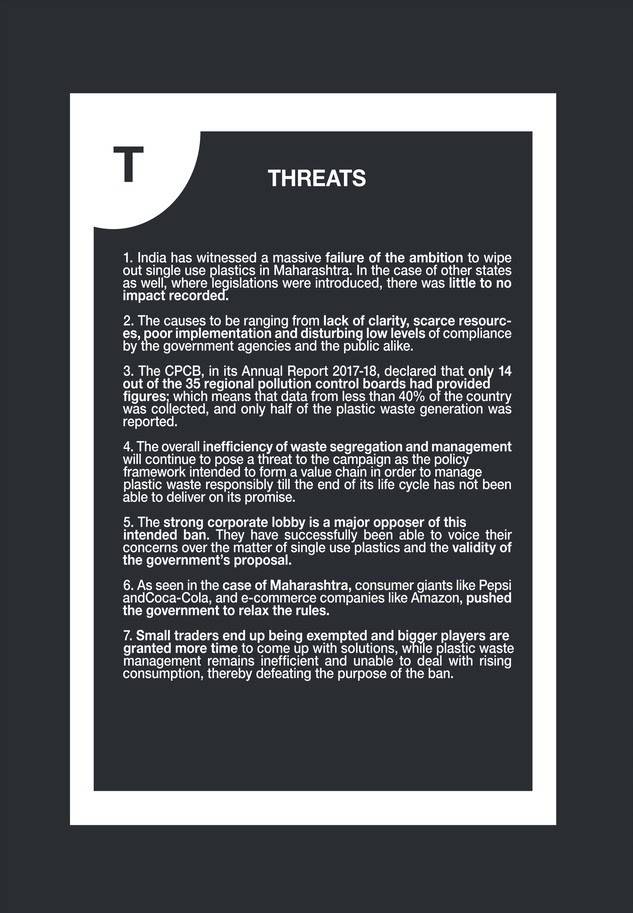 ENDNOTES:
[1] https://www.telegraphindia.com/india/single-use-plastic-ban-is-this-the-solution-to-the-menace/cid/1704230
[2]https://wedocs.unep.org/bitstream/handle/20.500.11822/25496/singleUsePlastic_sustainability.pdf?sequence=1&isAllowed=y
[3] https://cpcb.nic.in/uploads/plasticwaste/Annual_Report_2017-18_PWM.pdf
[4] http://ficci.in/spdocument/20872/report-Plastic-infrastructure-2017-ficci.pdf
[5] http://pibphoto.nic.in/documents/rlink/2016/mar/p201631801.pdf
[6] http://164.100.228.143:8080/sbm/content/writereaddata/SBM%20Plastic%20Waste%20Book.pdf
[7] https://pib.gov.in/newsite/PrintRelease.aspx?relid=189434
[8] https://www.aipma.net/page.php?pageid=msme-cell
[9] http://www.indiaenvironmentportal.org.in/content/454052/plastic-waste-management-amendment-rules-2018/
[10] https://www.aipma.net/Industry-Update/May2019/INDUSTRY-PERSPECTIVE-ON-SUP.pdf
[11] https://cpcb.nic.in/zobengaluru/ANNUAL_REPORT_2016-17.pdf
[12] https://pib.gov.in/newsite/PrintRelease.aspx?relid=193100
[13] https://dipp.gov.in/sites/default/files/pressRelease_09September2019.pdf