Authored by: Arushi Raj

Edited by: Avishi Gupta and Riya Singh Rathore
ABSTRACT 
Child helpline services across the country have reported an alarming spike in the incidents of child marriage during the pandemic. According to a recent UNICEF report, the pandemic has put nearly 1 crore more girls at risk of becoming child brides over the course of the coming decade. As the pandemic threatens to reverse years of gender equality gains, this paper examines the various Covid-19 induced socio-economic challenges that have led to a surge in child marriages globally, particularly in India. Further, this issue brief delves into the key challenges in implementing existing child marriage-related legislation and calls for an integrated approach to tackle child marriage in India. 
CONTEXT
An unforeseen consequence of the pandemic is the sudden upsurge of child and early marriage cases globally, particularly in India. According to data reported by ChildLine across India, between March and June 2020, they received a total of 92,203 distress calls, out of which some 5,584 were related to child marriages. Of this number, 97% were 18 years and below, and 91% were girls (Bahl, Bassi, and Arora 2021). Even states such as Karnataka, Andhra Pradesh, Tamil Nadu, Telangana, where the prevalence of child marriage is below 35%, reported a doubling in cases. This data only scratches the surface of ground reality since child marriages are socially accepted, most cases go unreported.
A recent UNICEF (2021b) report states that before the Covid-19 outbreak, more than 10 crore girls below 18 were expected to get married in the next decade. Now, an additional 1 crore might be at risk of becoming child brides due to the pandemic. These figures are highly distressing since India is already among the five countries that account for about half of the total child brides globally. At the state level, the top five states, namely Uttar Pradesh, Bihar, West Bengal, Maharashtra, and Rajasthan, account for 55% of all the child and adolescent marriages in the country. UP alone is home to 36 million child brides (UNICEF 2019).
Figure 1:  Out of the projected 10 crore child brides, up to 1 crore more girls are at risk of becoming child brides by 2030 due to Covid 19 pandemic.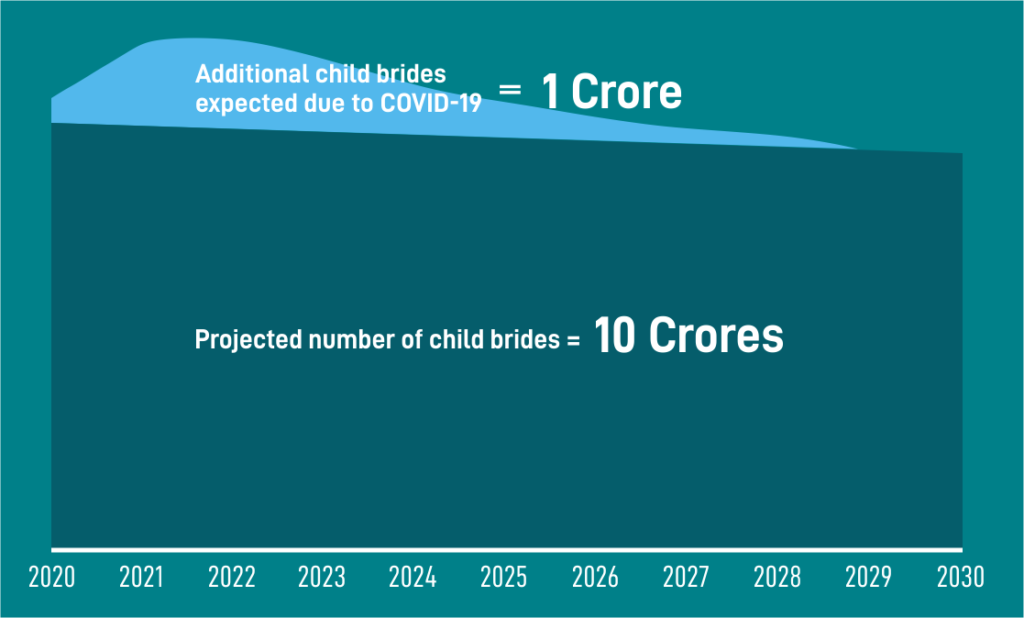 Source: UNICEF (2021b)
Over the years, India has made significant progress in decreasing child marriages, making the pandemic-induced surge particularly concerning. National Family Health Survey (2016) data indicates a sharp decline in child marriage in the last decade, from 47% of girls getting married before the age of 18 in 2005-2006 to 27% in 2015-2016 (see Figure 2). This has been accompanied by an increase in the median age of marriage, from 17.2 years in 2005-2006 to 19 years for women in 2015-2016 and from 22.6 to 24.5 years for men across the same timespan (Census 2011).
Over time, the pattern of child marriage has also changed. Child marriage, of those below the age of 12 years, is no longer common. Instead, most weddings take place amongst teens aged 15-17 years. Hence, there is a shift in terminology from 'child marriage' to 'early marriage' (Sen and Ghosh 2021).