Author : Deepika K Singh (Curated Voices)

Contributors : Mansi Dhata, Akash Sain, and Pratishtha Kohli

Editors: Riya Singh Rathore and Ritwiz Sarma
Abstract
Project Sampoorna aims to strengthen social emotional learning for 10 lakh adolescents in Jharkhand by engaging with the adolescent ecosystem. To create a systemic impact, this includes parents, teachers, school heads, and government officials. The objective of engaging with parents is to enable mindset change so that they can support their children's emotional wellbeing at home since it deeply impacts an adolescent's development. The article discusses learnings from deploying two key strategies – Interactive Voice Responses [IVRS] and thematic webinars, to engage with 7000 parents in Jharkhand during COVID lockdown. 
Keywords:  Social Emotional Learning, Adolescent Girls, Parents, Remote learning, Interactive Voice Responses System, Jharkhand, systems change, COVID response, Parent engagement
Introduction
A UNICEF study reported that 1.6 billion children and youth were impacted by school closures across 188 countries globally (UNICEF, 2021). Children were one of the most vulnerable groups during COVID-related lockdowns since they do not have a voice in most spaces, including inside their own homes. Restriction in movement, loss of livelihood and income, isolation, and the physical distancing measures led to heightened levels of stress and anxiety among children and also their caregivers. 
To combat this, a focus on Social Emotional Learning [SEL] and wellbeing of students can help mitigate COVID related distress and also enable adolescents to realise their full potential as adults.
About the Author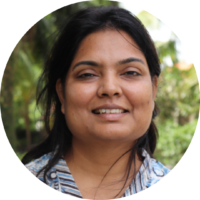 Deepika Singh at Quest Alliance. Quest Alliance works towards transforming learning ecosystems through EdTech,  capacity building and collaboration to build 21st century skills for learners and facilitators.  Deepika has two decades of experience in the development sector especially education of marginalised children. Her current areas of focus are adolescent girls education and wellbeing, Blended learning, systems change and ed-tech.
The Contributors
Mansi Dhata, Akash Sain and Pratishtha Kohli are part of Sattva Consulting. Sattva's work includes providing programme management, research advisory and implementation support across various sectors (health, education, livelihoods, environment) with an extensive experience of working with education – FLN, SEL, Life skills, EdTech