Text and Visuals By: Fatima Juned
As one walks further into one of Lucknow's oldest lanes, Gol Darwaza, they are struck by the alley's rich cultural past. This alley is not only a marketplace with sights of popular chikankari, gota-patti work, lace work, and jewellery, but also a world in itself, an intimate space for interactions between the past and the present.
One also finds old houses with detailed woodwork, intricate designs, and spectacular architecture. All stand testimony to a time gone by. Through the rose, jasmine, and marigold-scented narrow lanes, one arrives at the Kaptaan ka Kuan, a well surrounded by small shops.
One small shop among the cluster of chikan wear, block printing, and jewellery greets its visitors with a chisel and hammer clang. It is the sound of silver being chiselled. The metal pieces on display are adorned with designs of flowers and motifs of naqqashi work. Naqqashi or repousse work is a technique to engrave metal. The art form is said to have burgeoned during the times of the Nawabs of Awadh. Naqqashi is done on utensils, paandaans (betel case), khasdaans (dish with dome-shaped cover used to serve betel leaves), ugaaldaans (spittoon), plates, etc., which are later electroplated for a sparkling silver touch.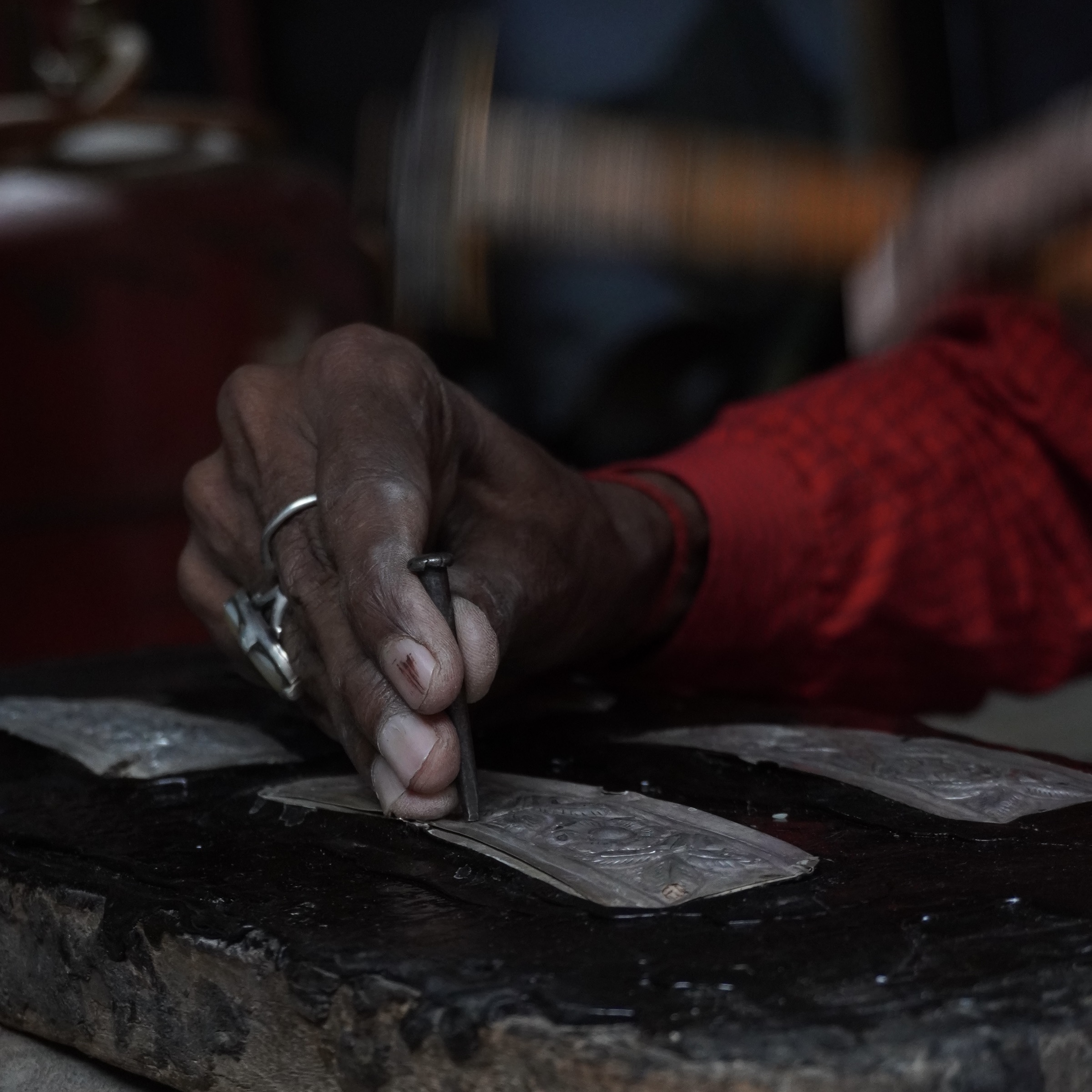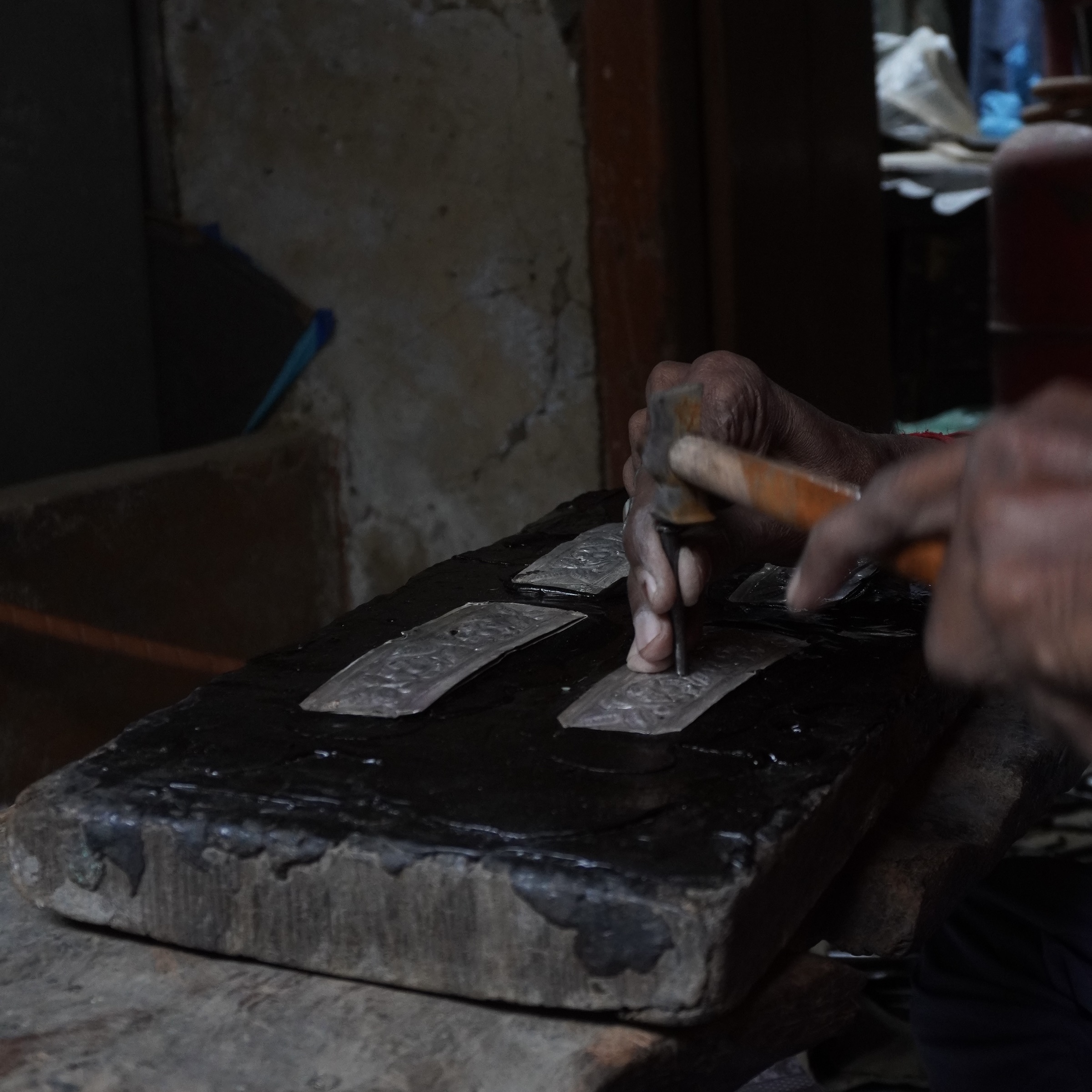 Zawwar's hundred year old shop is situated in the corner, with an open space outside, where he sits and engraves silver. In this quiet part of an otherwise bustling lane, chisel and hammer ring as Zawwar effortlessly engraves intricate designs on silver plaques. He mentions that he has been doing naqqashi work for more than thirty years and that it has been his family's occupation for approximately a century. He learnt the craft from his father, and his father from his grandfather. He makes use of his original compositions for designing, though he adds, "Drawing toh bohot achi nahi hai. Pencil se nahi bana payenge, lekin chaandi pe bana denge" [My drawing is not that refined. I won't be able to make it with a pencil, but can draw on silver]. His interest in the craft grew when he started doing the naqqashi work and learnt a few designs from his father and some on his own. He says the designs that his grandfather and father made, like flowers and leaf designs, were much more intricate.

His shop displayed several pieces with naqqashi such as the alams used during Muharram. One item which catches attention is the Chaandi ki Chappal (Sandals of Silver). While engraving the silver, Zawwar remarks that though there are a number of carvers, only three to four people make the Chaandi ki chappal since it requires an advanced skill set.

The making of the chappal is not a one-person job. It requires different people at each step. First, the silver is cut with a machine, then naqqashi is done on it, and finally the chappal is assembled. The chappals are made as per demand and not produced in bulk. Most orders are placed by big jewellery stores. However, sometimes curious customers make their way directly to shops such as Zawwar's. 
While the silver is bought at the current market price, combined with the compensation for skilled naqqashi labour, the final price averages between INR 16,000-17,000. According to Zawwar, the demand for the chaandi ki chappal has increased over the years as it is a popular gift for newly-wedded brides in Lucknow.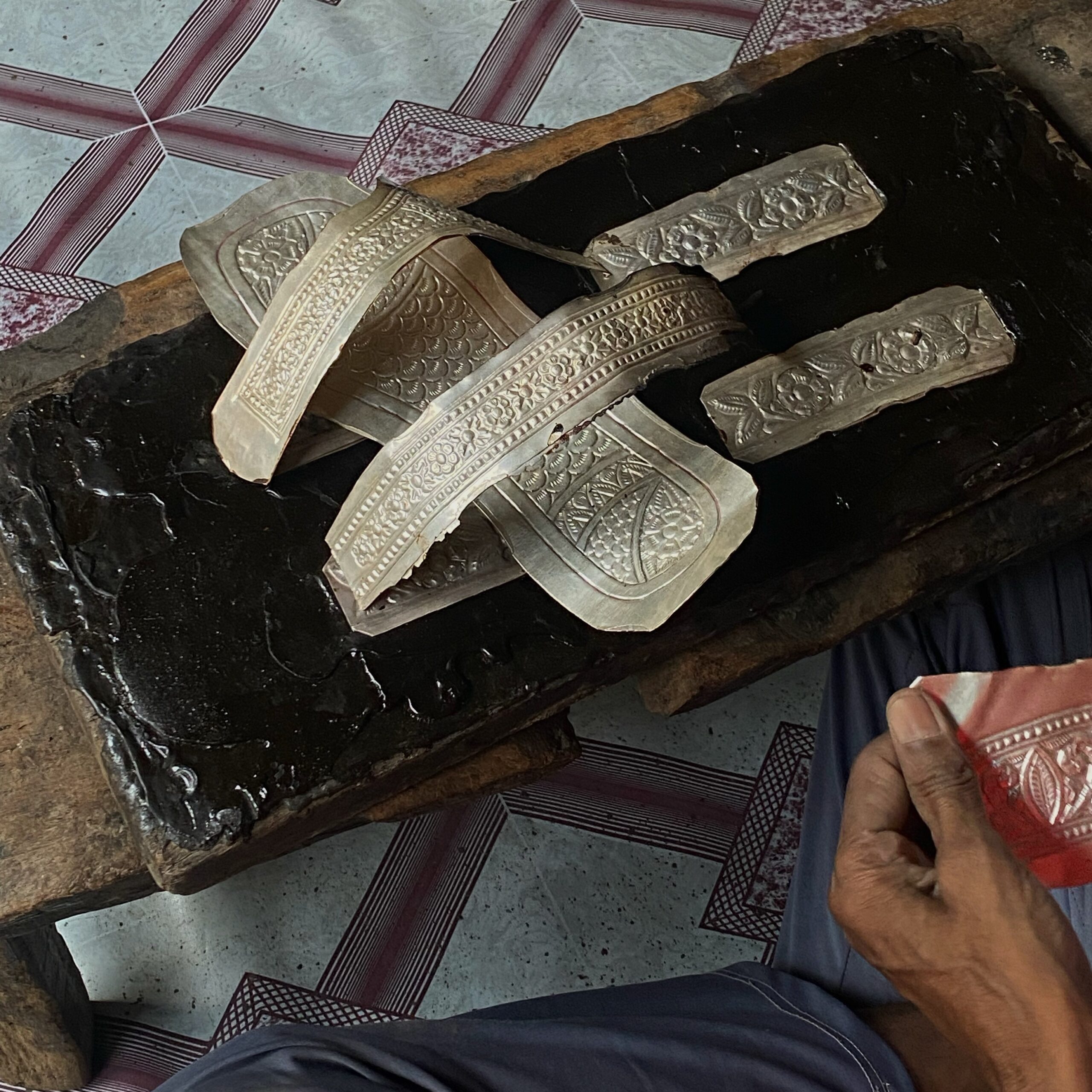 However, the making of these exquisite crafts comes with its challenges. Zawwar has to sit for long hours, continuously hammering the silver slab. He sits on the floor of his dimly lit shop, preferring to do the bulk of his work during natural light hours. His income only steadies during the wedding season with only few customers purchasing silver sandals during the off-season. Like many other smaller crafts, naqqashi is rapidly declining since the artisans do not generate enough income.
Aware of the precarity of the profession, he prioritises his son's formal education. Despite Zawwar knowing that he would be one of the last expert naqqashi artisans, he refrains from passing down the craft to his son. Inadequate income, substandard working conditions, and non-recognition of the craft aid Zawwar's decision. He mentioned that during the pandemic, he struggled to make an income and mostly lived off his savings. Over the years, no support in terms of funds and showcasing skill has been provided to generational artisans of older crafts such as naqqashi. However, crafts like chikankari and muqaish have access to artisan schemes like Artisan Credit Scheme.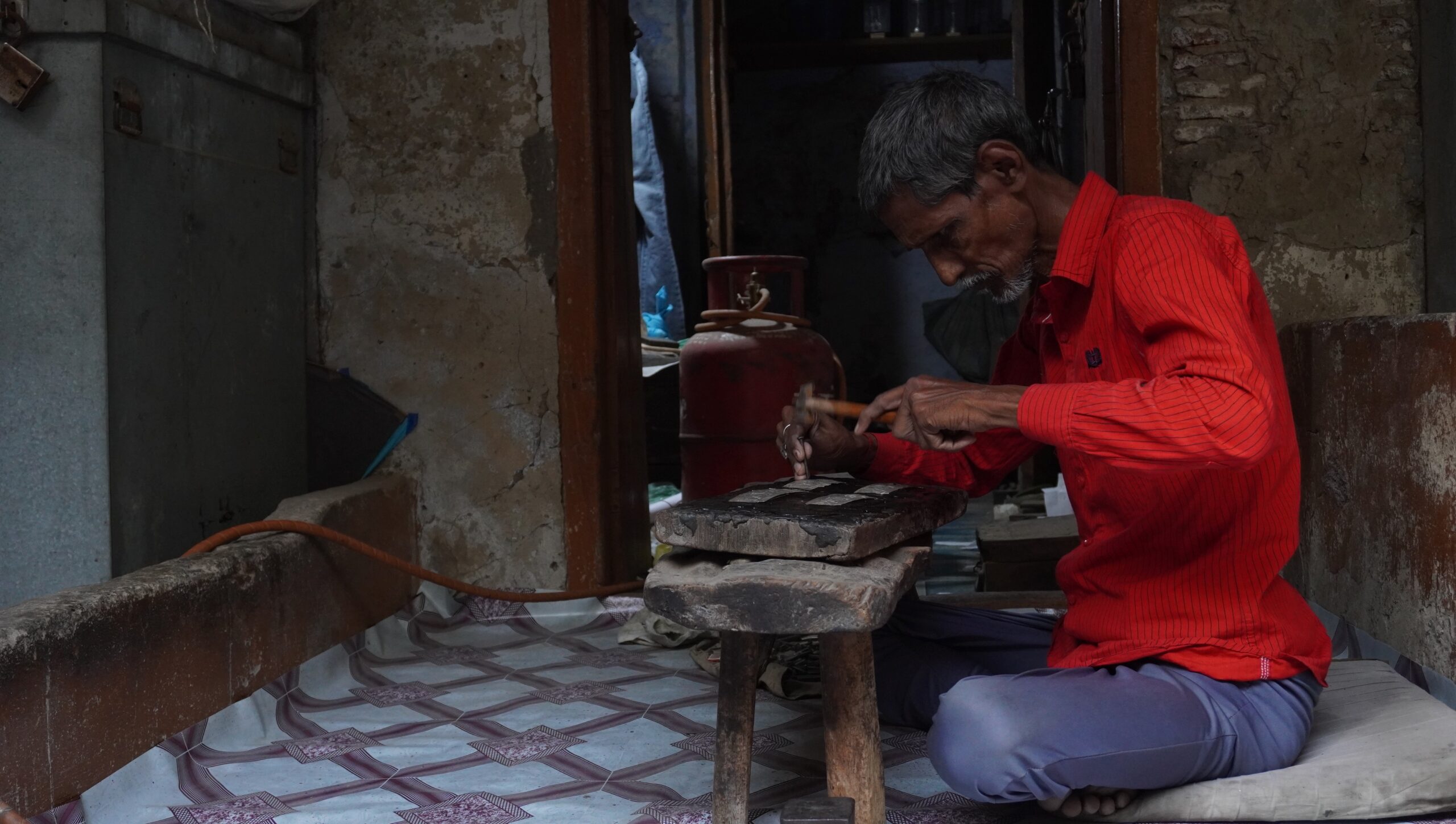 While discussing antique metal crafts and the shift in people's perception over time, Zawwar mentioned: 'ab logon ke paas ache kaam ka tajurba aur nigaah nahi hai' [Nowadays, people don't have the experience and observation for good work]. With more advancements in machine-made products, people cannot distinguish between handwork and that done through machines. Zawwar opines that people earlier commended an indigenous artisan's hard work and skill but this appreciation is becoming a thing of the past. He wishes people purchased naqqashi products to appreciate the craftsmanship and not merely for aesthetic purposes.  
The decades-old craft, mainly the craftsmanship, is an integral part of the cultural heritage of Lucknow that requires it to be preserved. However, over time, these crafts have lost their economical value, coercing artisans to not pass the artform down to future generations. It therefore becomes imperative to highlight such crafts which otherwise do not get visibility. Efforts by the government to organise hunar haats (handicraft markets) specifically for crafts like these could help in craft preservation, creating awareness, and providing a platform for artisans to be appreciated.