Author: Soumya Singhal

Photographs by: Sarvdeep Singh Arora

Editor: Riya Singh Rathore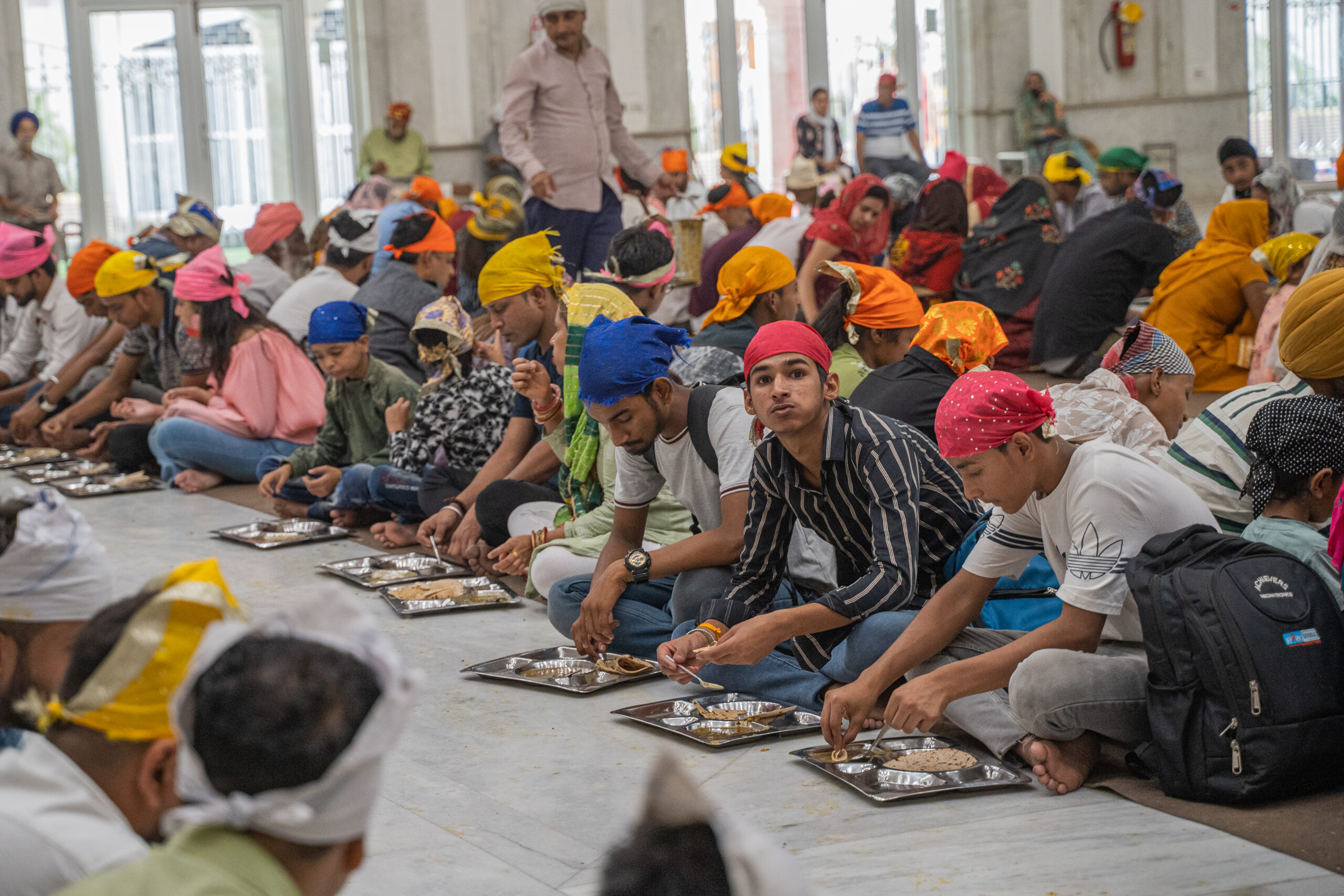 "The Gurudwara never turns away anyone in need of food or ration," says Harbhej Singh, the Kitchen Manager at Gurudwara Bangla Sahib in New Delhi. Upon entering the grand white-marbled langar hall, one finds sevaks or sevadaars serving hot meals to rows of people sitting next to each other.  Langars, a community kitchen at a Gurudwara, serve food free of charge to all. The kitchen at the Gurudwara feeds 30,000 to 35,000 people daily, irrespective of one's religion, gender, or caste. The food is nutritious and freshly made by teams that work around the clock in shifts of three. The meals are as fulfilling as they are accessible, with an assortment of chapatis, rice, daal, vegetable, prasad, and dessert. 
The concept of langar started approximately around 550 years ago by Guru Nanak Dev, the first Sikh guru and founder of Sikhism. Mr. Singh narrates how Guru Nanak's father had given him twenty rupees and asked him to make a 'saccha sauda' or a true bargain. While searching for such an opportunity, Guru Nanak chanced upon starving monks and decided that feeding the hungry was the truest bargain of all. Built on this spirit of giving, Sikhism adopted langar as a means to give back to the people. With seva, or service, as one of the tenets of the Sikh religion, Sevadaars are motivated by their desire to serve those in need. In fact, one of the first questions asked upon entering the langar hall was, "do you want to perform Seva?"

The kitchen has been modernised to include automated cookers and roti makers, which makes preparing large batches of meals easier

.

 
The Global Hunger Index of 2021 [1] indicated "severe" hunger in India with a score as low as 27.5 on 100. In addition, the Food and Agriculture Organisation [2] suggested that the inequality in per capita calorie intake for India was 0.29 in 2020. These two indicators suggest that not only is the Indian population food insecure but also that the supply and consumption of food across income groups is unequal.
Some policies have aimed at tackling this issue. For instance, the introduction of the National Food Security Act [NFSA] [3] in 2013 marked a paradigm shift in ensuring food security from a welfare perspective to a rights-based approach. The thrust towards this rights-based approach was evident in the NFSA's [4] inclusion of access to food as a part of the right to live with dignity under Article 21, Right to Life. However, most food security schemes like the Targeted Public Distribution System [TPDS] and NFSA provide food grains or direct cash transfers to the beneficiaries. They do not focus on ensuring access to cooked meals, save for the Mid Day Meal Scheme. 
In doing so, the TPDS and NFSA assume that the beneficiaries have access to cooking appliances or even safe cooking fuel. Moreover, the TPDS, in particular, benefits only those below the poverty line. These apertures beget two main questions: how would people suffering from homelessness or those who can not afford kitchen appliances avail cooked meals? Secondly, how would low-income families afford low-cost meals given their high dependence on the open market for food grains?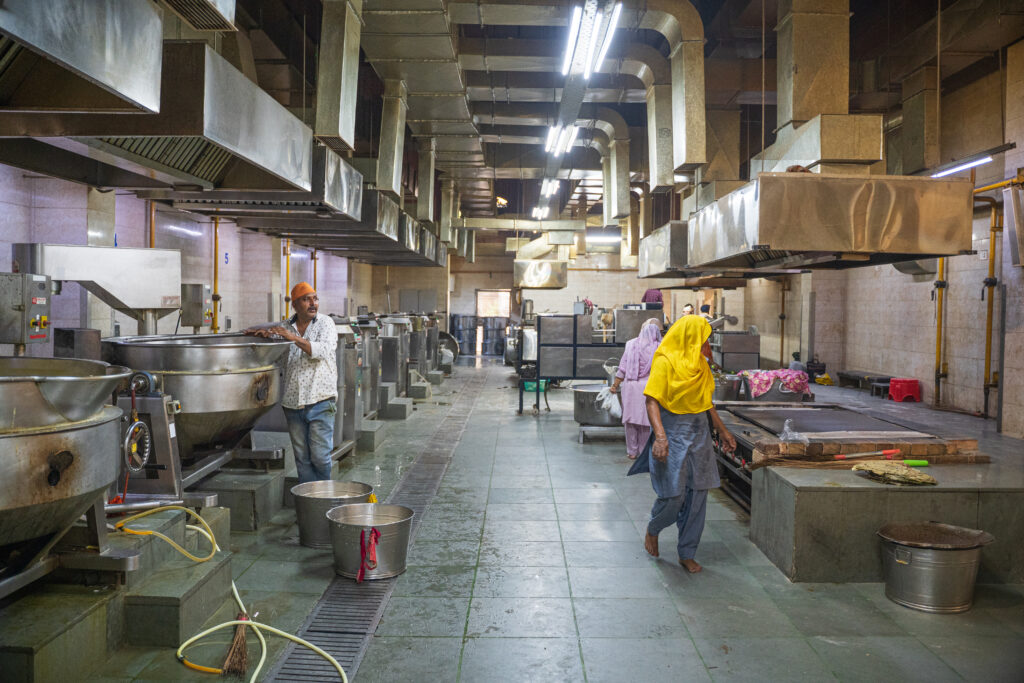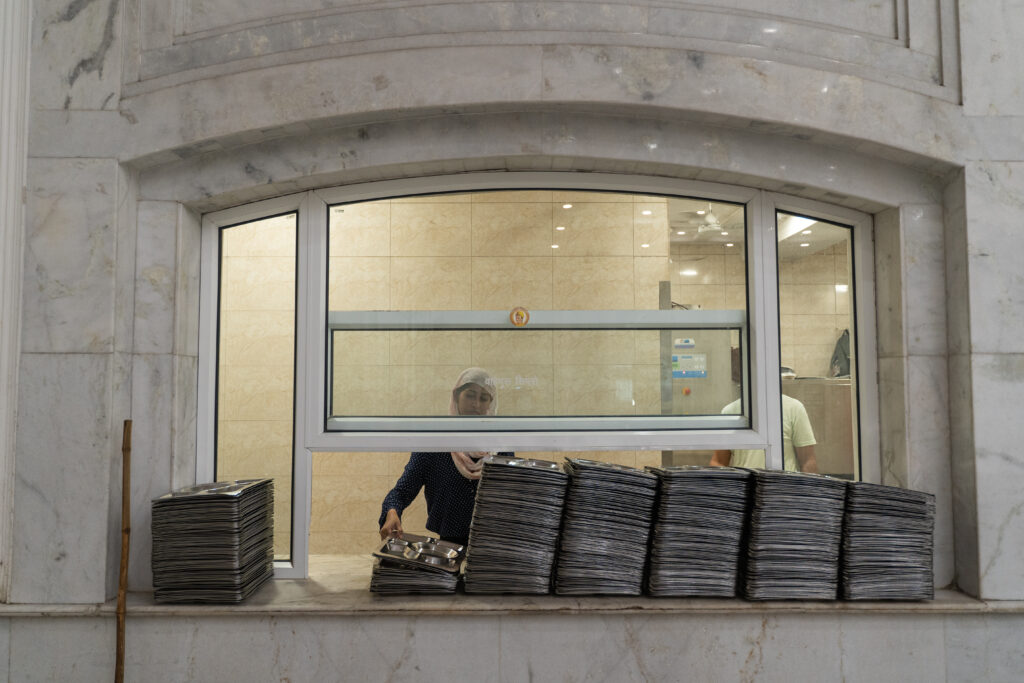 Despite government efforts, the pandemic has worsened the chasm between the urban rich and the urban poor with regard to access to food and nutrition. Loss of employment has also affected people's access to food. The Gurudwara served food to 2,00,000 to 2,50,000 people daily during the pandemic. "People's work stopped [during the pandemic], but their hunger persisted," rationalised Mr. Singh.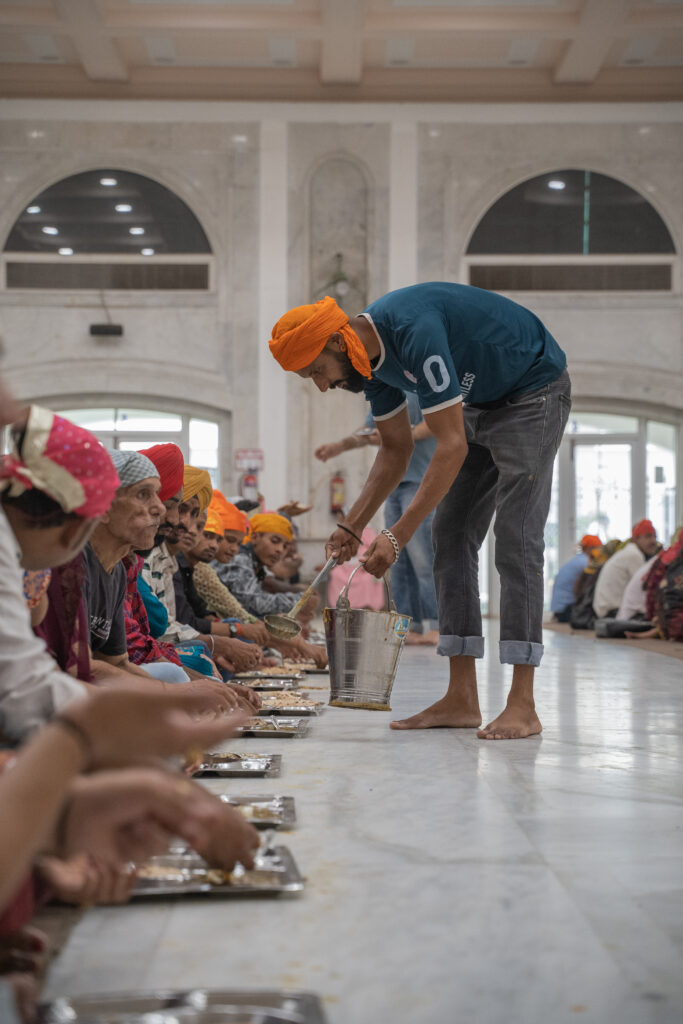 During the pandemic, Gurudwara Bangla Sahib distributed food under DSGMC's larger endeavour to help the Delhi government ensure food availability, especially to low-income individuals. Meals were prepared, packed, and sent to the doorsteps of even COVID-19 patients. This instance captures the coming together of the civil society and the government apparatus where the former bridged the fissures in the existing food security policy framework. Given these identified gaps, community kitchens act as a sustainable model alternative to traditional institutional measures, which do not ensure the same food security and nutrition amongst low-income individuals. What remains to be seen is whether the current policy framework can study, if not directly engage with, the community kitchen model for carving out an additional method to guarantee food security that could focus on cooked meals and not just ration.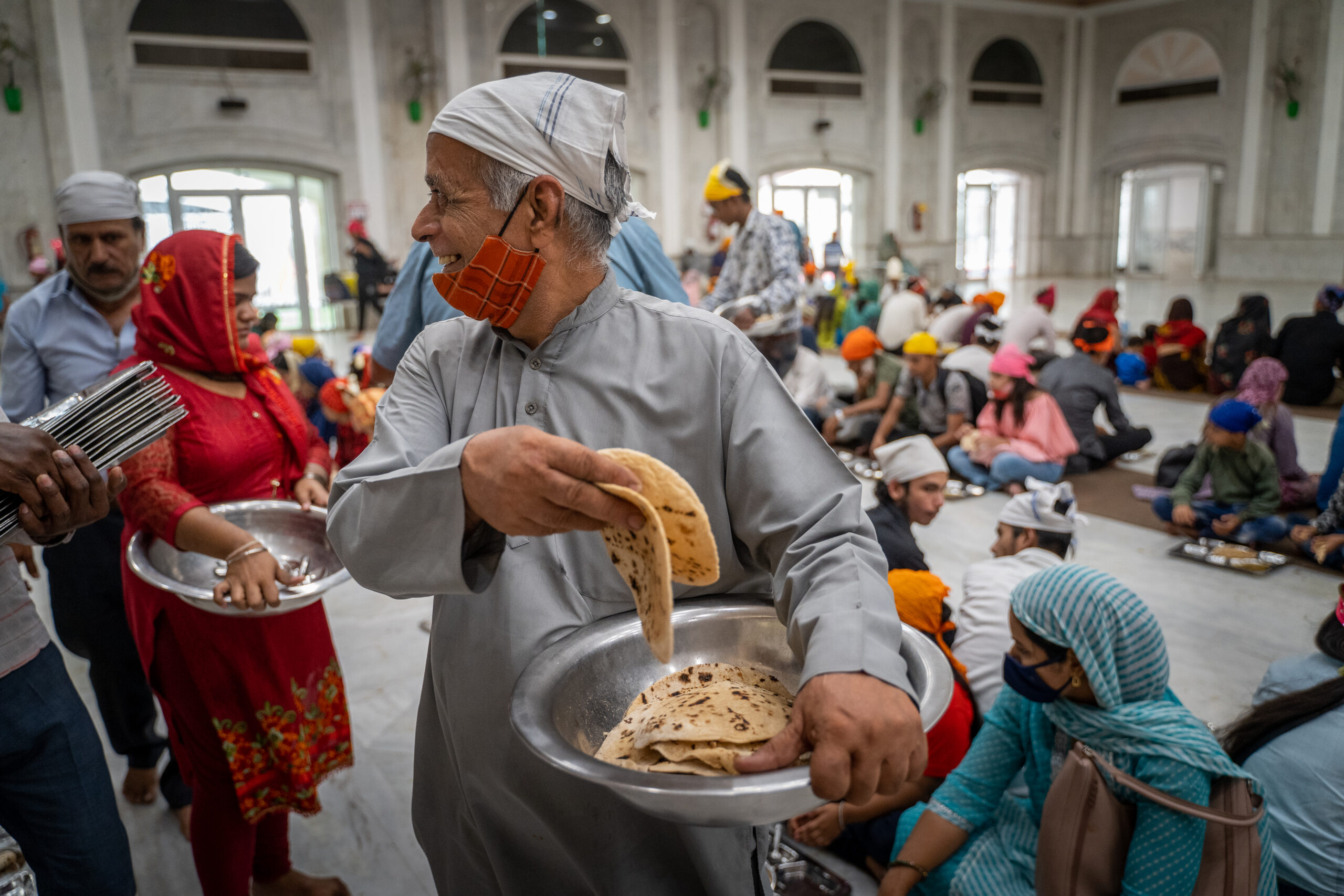 Sarvdeep Singh Arora is a freelancing photographer and filmmaker based in New Delhi. He has worked with organisations like PTI, Goethe Institute Delhi, Premiere League, DLF, and the MoHFW. He has also worked on award-winning short films and documentaries.